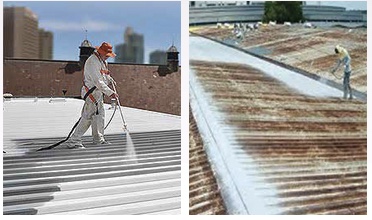 Protective Coating : SealProof
1 Part Water-based Tripolymer Anti Carbonation Coating
Cures to form a tough, flexible, colored, waterproof protective membrane.
Primarily used for the protection og walls, concrete facades, bridge parapets, balconies, columns, beams, against carbonation of concrete.
Application Area /Usage :
i) RC Roof decks
ii) Balconies and terraces
iii) Concrete repair
iv) Bridges, soffits, wing walls
Advantages :
i) Elastomeric – capable of bridging cracks.
ii) Easily applied by roller, brush or airless spray.
iii) Provides barrier against salts and atmospheric gases
iv) U.V stable maintains its appearance.
1 Part Water-based Anti Corrosion Coating For Steel and Re-bar
SealPrime ACT is best applied on properly cleaned and prepared ferrous metal surfaces in 2 or more thin coats depending on the condition of the substrate and the service requirements. The primed surfaces can later be top-coated with any SealFlex ACPU, SealFlex AC, Liquid Membrane Systems or other suitable top coat systems.
Application Area / Usage :
i) Metal roofs (new construction & refurbishment)
ii) Reinforcement bars protection.
iii) Any steel structures, marine/offshore environment.
Advantages :
i) Provide multiple layers of defence against corrosion.
ii) Tough and durable.
iii) Strong adhesion, homogenous to steel substrate.
iv) 1 part, easy application, fast cured.
SealsFlex Chemicals Sdn Bhd
Address
No 4, Jalan Utarid U5/13,
Bandar Pinggiran Subang,
40150 Shah Alam, Selangor.
Email
gtg.urbanscapes@gmail.com